Do you see that? Take a closer look.
Helmet.
Lower right.
Muskets! Helmet stickers!
West Virginia, at long last, has them.
It's new this season, and it's received no attention. I'll try to figure it out, but for now, we know what we know, which is not much.
Certainly, Christian Brown, who began his final season with arguably his best game in a West Virginia uniform, earned a few from his performance in the win against Missouri. Jeremy Tyler was good that day, too. But I don't think it's an individualized merit-based system. Not solely, at least.
Surely a sack or a tackle for a loss or a one-handed catch or an ankle-breaking juke wins something. Nothing against William Crest, but Crest has stickers, too, and I can't think of a play against the Tigers that deserved one.
But perhaps Crest was rewarded for being on an offense that hit specific goals for that game or for any game. It's possible he followed his performance against Missouri with a good week of practice — in fact, he did, and you knew that if you listened to Dana Holgorsen after Saturday's win or if you read TFGD — and that's worth something. Maybe Eli Wellman gets stickers for Justin Crawford and Rushel Shell reaching certain numbers. Maybe Khairi Sharif gets a sticker because the defense didn't allow a pass over its head against Missouri.
Whatever the system, it's a smart and simple addition for WVU, although I feel for the equipment person who has to make sure a player has the same number of stickers on the gold, blue and white helmets. That's a job, right? Imagine keeping inventory for Skyler Howard every game for every helmet. Say he gets seven stickers for what he did Saturday. Is that 21 stickers? WVU's using, like, 55 players on the regular, which means 165 helmets for 10 or 11 more games, and as best as we can tell, you can get a sticker by being part of a group or a side of the ball. I feel like the equipment guy needs stickers for the mere risk of carpal tunnel.
…where was I?
Got it. Smart and simple. Right.
Hey, it looks good — everything is about recruiting, in case you forgot — and, more importantly, it's a universal language. There are a lot of games, teams and players. It's not easy to keep up with everyone and everything. A fan will know about the key players involved in the games in which they are invested. A television broadcast is going to focus on a few players and know a few things about them. Helmet stickers give everyone an identity that viewers recognize and understand without any assistance. It's easy to see a defensive back smoke a receiver coming across the middle or a running back dash through a crease and then spot the number of stickers on his helmet. This guy, this guy's good.
Helmet stickers, helmet stickers are good, and now they're yours. How did we get here? Let's find out by taking a look at the Good and the Bad of WVU v. Youngstown State.
Bad: Rules
This is dumb. Shell is called for a false start, and I'm going to guess the explanation is that he was in his stance and made an abrupt movement in which he looked to the sideline. In an extraordinarily strict interpretation of the rules, sure, it's a false start. I don't know how that's different than an offensive lineman getting in his stance and then rising up and checking with the sideline. Live and learn!
Nah, forget that. Let it rip.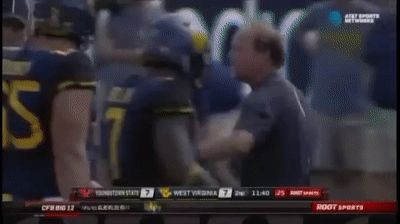 Bad: Encores
Quickly recall all the players who made debuts against Missouri and excited you about the future. How many of them were at that level again against YSU, never mind better? Billy Kinney? Kennedy McKoy was definitely better, but his debut wasn't in the line of promising ones. I think that's a part of what happened Saturday. WVU will have to rely on a lot of new parts — new starters, new contributors, new players — to put together the big picture. It was easy for them to be up and energetic and emphatic against Missouri. The first game is only ever the first game one time, and it's really hard to summon that same inspiration every game. It's more complicated when you move from an SEC opponent to an FCS opponent that's calling the game its Super Bowl. The Mountaineers suffered because of that Saturday. It's not solely the fault of the newcomers, but their older and more experienced teammates fed off of that and were helped by that in the first game. That has to be there in the second — and 12th — game, but those same older and more experienced teammates had a duty to return the favor and be the examples in the second game. Flip side: They still won, and now they have a long time to deal with the repercussions of an iffy effort before they get a chance to fix it.
Let's be completely unfair and pick out Justin Crawford, but only because the bar was so high after last week. He was OK in his second game — 40 yards but on 12 carries and not one longer than 6 yards — and the Mountaineers weren't tickled with his play. He dropped one pass. He missed some holes. He wasn't the player who widened eyes in the preseason and then the start of the season. (Aside: McKoy was. WVU's going to be all right in the backfield.)
This is a familiar counter power play. Right guard Kyle Bosch pulls. The fullback, Wellman, takes a faux step right and then goes left. There's an alley between Wellman and Bosch. Crawford cuts inside. Crawford hit this play just fine last week. It wasn't as successful in his second game. (Aside: It's possible the defensive end up top spoiled this, because I think WVU would rather have the guard kick him out and use the fullback inside to block the linebacker. If that's so — and it could be, as you'll see later — then perhaps Crawford was spooked. Chicken salad.)
This is what most would call a counter trap. I think some will want to blame this one on the left guard, Tony Matteo. Should he get the linebacker at the second level? If he does, Crawford doesn't have to waste a step and a second on him and can zero in on the safety. It might break. But the pulling guard is generally supposed to get that defensive end and seal off that side. (Aside: This is a good look at how YSU used its safeties, too.)
This isn't a power play, but YSU's Avery Moss — the aforementioned defensive end up top, who we aren't finished discussing — just ruins it. He shrugs off left tackle Colton McKivitz's block, and Wellman collides with Moss and can't clear a path. Crawford has to bounce it outside, and it doesn't work. Honestly, Crawford couldn't do much on two of these three plays — and we're not sure exactly what happened on the first. Don't overreact.
Good: Avery Moss
Let's take a second and credit Youngstown State. That team would beat some Mid-American Conference teams. The Penguins have talent and should be a presence in the very good Missouri Valley Conference. On defense, they have some pros. I know Derek Rivers was the name before the game, and for good reason, but Moss can really play. Rivers had two tackles, and WVU spent most of the second half running to the right side. Why? Moss was on the left, and he was a monster. McKivitz was quite good in his debut against all-SEC defensive end Charles Harris. He had no such luck Saturday. "Colton had a rough day," Holgorsen said. "He looked like a redshirt freshman." Moss, who is no slouch, was so good. Six solo tackles. He ruins the Crawford play above and then another one here. He stands McKivitz up and makes the play here. He reads the blocking here and steps over the running back, and Howard's reaction is something along the lines of, "Bruh."
Good: The interest of fairness
Moss was a factor, and WVU stayed away after halftime, but here's one of the few times — "few" as in two, I think — a play went left. It's a big spot, and McKivitz opens the door for McKoy. McKivitz played all but four snaps. He'll get better, but he's going to need help, and you have to anticipate that Adam Pankey is going to get some PT at left tackle now.
Good: Ricky Davis
Confidentially, WVU wasn't sure why Davis was YSU's starting quarterback. The starter last season was back, after all. But I think it's clear why now. He's a gamer — excuse me — "a scrappy dude," according to Holgorsen. YSU's game plan was perhaps different than that of other FCS teams that upset an FBS team, but the threat becomes real when a quarterback gets hot, no matter the offense. Davis was percolating in the second quarter, and he was making his receivers play better than they probably are (right now). I thought the push pass was clever, but the above play showed he wasn't scared and the Penguins weren't going anywhere. The open-field block in front of Davis gives him a welcoming path around the corner toward the right pylon. But that's not fun enough for Ricky Davis, so he hurdles over the action and into Tyler, who I'm sure was caught off guard by this.
Good: Rushel Shell
I'd like to poll the audience today on Mr. Shell. This is the best he's looked at WVU, right? Now, he is fresh after sitting out a good stretch of the preseason. That helps, and consistency and longevity are intertwined. He looks to be better for whatever rest he received after he was concussed in camp, cramps in the first game notwithstanding. He's in the game on passing downs. He's doing all right when he's helping to protect Howard. And he's running really hard. He's behind his body, and he's running forward with that body, but he also has this neat thing going when he does go to the side. Defenders know they need to bring it to take him on, and for the smaller types — the types Shell like to bully — that means speeding toward the play. Mass x Acceleration. But Shell's sometimes narrowing the target. He sort of gets skinny without really stopping, and the defenders are glancing off of him while Shell is able to reset and move forward.
Good: Fastball
Here's Shell getting skinny. Call that a changeup, because a defender has to assume the big fella is going to square up and either initiate or welcome a collision — or both. This is not that. It's subtle, but it's something interesting, maybe only to me. But the fun part here is the fastball. WVU uses 13 seconds between the end of Shell's run and the snap that precedes Howard's pass to Shelton Gibson. The secondary, which had to help against the run, wasn't ready. Look how far away the safety is on Gibson's side. That's an automatic if-then scenario.
It wasn't playaction, either. Three of Howard's five touchdown passes were, because the Mountaineers, when able to run, were requiring YSU's safeties to keep their eyes in the backfield. They had dual responsibilities. Begin at a depth, but play the run if it's there and get back to help against the pass.
That's an extremely tall task against Gibson. He cooked a cornerback and a safety on his two touchdowns. He did it in different manners, too. On the first, he does a very good job working to get his leverage, first getting inside the cornerback and then outrunning both defenders to give Howard a lot of space to use for his throw. That was some serious speed, but Gibson was probably faster on the second with a stutter at the line and then some straight-line velocity to get open. He's a problem.
That said, the best of the three playaction touchdowns was the one to Ka'Raun White, because Marc Bulger saw it coming.
Good: Rapport
I can dedicate a section to Howard and what was, I thought, his best game. He should have been 23-for-33, but Shell and Crawford dropped swing passes and receivers coach Tyron Carrier said Jovon Durante didn't run through his route on the interception. (Side Bad: Another timing issue there. Durante looked alarmed that the ball was on him that fast and/or that it wasn't precisely where he wanted, but that's life in there.) If Howard gets those three completions, he's at 69.7 percent with 400-plus yards, five touchdowns and no interceptions — an he probably deserved that. He's become pretty reliable with the deep throws. He has calculated misses. (Side Bad: A pretty poor decision to throw into the end zone here. That drop, after a three-and-out for the offense to start the second half, was the beginning of the end for the Penguins.) His intermediate game has really improved, which leads the to the second part here.
I could also dedicate a section to Daikiel Shorts, who has been tremendous so far. He has 14 receptions on 18 targets. He's picked up a first down on 13 of his catches (one first down was also his touchdown, which was a useful fade throw/catch) and had 9 yards on a first-and-10 reception. He's that close to batting 1.000. On third down, he has five receptions and five first downs, including the touchdown.
This is rapport. Those two are connected. I'd like to tell you I labored over which play to use to illustrate it best. There are times when Howard scrambles and throws, and he seems to always find Shorts because I'm positive they've worked out that detail. I run right, you run right. There are some well-placed balls across the middle, essentially to a spot, because Howard knows the depth of the route Shorts will run and when he'll arrive. But if I'm being honest, there's one play that makes the most sense.
You know what back-shoulder fades are, right? A quarterback sees his receiver 1-on-1 with a cornerback, and he intentionally throws the ball short and to the outside so the receiver can come back to get it. Howard and Shorts don't run a back-shoulder fade in the middle of the field, but it's essentially the same unspoken bond. Watch it. Shorts starts to the right and angles left and toward the first down. But he's opening the space behind him for a throw and, wham, there it is. That's special stuff.
Bad: Other inside receivers
Um, Steven Smothers played late in this game. Carrier said they're trying to find someone and something inside. Fair to say Smothers, who did not play against Missouri, is part of the plan there. Not fair to say Durante is on thin ice. They did try to get him going early, but he was complicit in the interception and he had a chance on this reverse, which never gets going and probably needed Wellman to block the linebacker. But what was most noticeable was that Durante got dominated when he tried to block on a stacked screen. Kenny Bishop was having none of that. Holgorsen pulled Durante quickly. Enter Devonte Mathis, who's a much, much bigger guy and obviously a much better blocker.
Good: Third down offense
Not good against Missouri, despite some reasonable situations. Very good against YSU, despite some difficult situations.
Bad: Run defense
Without getting into a dissertation about option football, because that's not YSU's offense, option football can make a good defense look bad. (Aside: That line of defense notwithstanding, this should not happen. WVU has a structure for pursuit plays, and the cornerback on the side of the play, who in this case is Rasul Douglas, is supposed to retreat and be the backstop. It does no good to be the backstop in the end zone.) Defending the option is based on assignments — dive, keep, pitch — but there's so much deception involved in the play and in perception that it puts defenders into conflict and oftentimes conquers them. The Penguins used some option elements to move the ball inside and outside. WVU had mixed results, shutting down some plays and missing either tackles or assignments — or both — on others, and that drove defensive coordinator Tony Gibson crazy.
But what really bugged Gibson was the success on basic runs. The 3-3-5 is about "gap integrity" and defending the run depends on two gaps in particular: the A gap (between the center and the guards) and the B gap (between the guards and tackles). On just about any run play, the nose guard and the middle linebacker combine to handle the A gap. The nose goes to one side and the middle linebacker always goes to the other. The nose is never wrong because the middle linebacker's job is to go the other way to make the nose right. The Sam linebacker on the strong side of the formation and the Will linebacker on the weak side of the formation man the B gaps. Watch what happens here. The nose, Darrien Howard, takes the back side of the play and middle linebacker Al-Rasheed Benton takes the play side. Justin Arndt, the Sam who lines up here as the bottom linebacker, goes really wide. Runs past the left guard. It turns the B gap into a four-late tunnel. The back is speeding through it, the left guard blocks Benton on the second level and YSU wins this down. Or WVU lost it. Shouldn't happen, and it happened a few times Saturday. Today, WVU ranks No. 94 in rushing defense (182.5 yards per game) and No. 86 in yards per carry (4.15).
This play is a little bit different with altered assignments because of the YSU formation, but obviously WVU wins this one. The left tackle pulls, but Arndt is sharp and sees it and knows he has to take him on to take him out. (He's essentially splitting a new B gap the pulling left tackle creates.) Benton and Howard do their part just right, and Benton zips in to make the tackle. This happened a few times, too, but I think Gibson would tell you it didn't happen enough.
Good: More of Tony Gibson's salt
After the game, somebody asked Gibson about this play — "Talk about the touchdown pass …" or something like that — so Gibson commented on the touchdown pass. "It looked like a punt." Poor Jarrod Harper. Anyhow, WVU played a bunch of Cover 1. Gibson thought a formation with a single high safety look would be able to stop the run, and he thought his defensive backs could cover the YSU receivers. And, of course, Gibson threw in some Cover 0 to blitz the Penguins, which again meant Gibson thought his guys could cover their guys. Didn't work here. WVU is actually not playing its nickel defense — near as I can tell from the footage — but seven go after the quarterback, which leaves the cornerbacks on the outside receivers and the bandit and free safeties on inside receivers. The Penguins saw this coming. The outside receivers don't go deep, meaning the cornerbacks don't either, and both slot receivers go deep and bring the safeties with them.
But get this: Later in the game, YSU has third-and-3 in a 14-14 game and WVU does play nickel defense, which, long story short, puts an extra defensive back on the field and moves Maurice Fleming from outside cornerback to nickelback across from a slot receiver. Same down-and-distance, same play for the Penguins, similar play for WVU (six blitz instead of seven) and a much different result.
Good: You knew it was coming!
Previously on the Good and the Bad, I presented the above scenario. I do not know everything, and I apologize if it comes across like I believe I know everything. That's not my intent. I'm here for the same reason many of you are. What the heck's going on out there? So when you see a problem and you see something that may at least resemble a solution, you wonder aloud. So I was "officially curious," and I never got to ask the question in last week's Tuesday news conference because I wrote that portion Tuesday night. Then WVU gets to the red zone Saturday and — I believe that's Mr. Gilmore's!
In that frame, YSU doesn't offer the optimal response — stubborn Penguins — but we saw it happen! WVU gained yards on the ground on some plays and gobbled up space on the quick screens outside on some plays. There wasn't much more than that … but there was some more, and this is the stuff that's definitely on a laptop in Provo.
This is as cheeky as it gets. Again, the defenders who build the walls of the box aren't as wide as you want when you use the stacks, and that's a drawback to this plan, but because of that, they've had to hurry to the sideline again and again to make the play on the screen. They're also officially curious, and WVU knows it. Look how deep the safeties are, too. A few steps deeper than the previous play. So Howard fakes the screen, the defense reacts and Howard follows Wellman for 9 yards. So good.
WVU scored on the play before this, but a holding penalty on Bosch — the only penalty against the offensive line this season — took that off the board. Back to the stack. YSU decides to blitz. It's 6-on-6, but Rivers puts right tackle Marcell Lazard on sliders, and that understandably rattles Howard. He lunges right, but a blitzer is heading that way, as well. It all breaks down, and that's a shame, because this had a chance. Look at the top of the screen. The coverage doesn't work. The blitzed who hassles Howard after Rivers is the deep safety. The remaining defenders above that stack follow the inside receiver. No one covers White. Howard saw it, too. It's not his fault. It happens when you get blitzed.
Sadly, this is not a red zone play. What it is, though, is one of Holgorsen's best play calls ever. I will not argue this. The screens have worn out the YSU defenders. They're cheating now, and they've also been duped twice by Howard's fake screen-draw. Remember, apart from the space you manufacture (when the defense isn't so stubborn), there are two appeals to the stacked formation:
The bottom receiver will get a free release
The quick screen to the bottom receiver has an immediate blocker
Put those two together, and the focus is almost always on the bottom receiver. Holgorsen kept this worm in the can for so long.
Before we go, thanks to all of you who spread the word last week. This feature never enjoyed hits, feedback and publicity like that before. And since this was the only Root Sports game of the season, this should be our last Standard Definition G&B of the season. It's simple to get copies of games on the ABC or Fox families. Tier 3 games are another story. I had a couple people step forward to help me find a file, so thanks to Joe Brocato, lowercasejeff and Christopher Heslep. I won't say whose I chose, much like I wouldn't choose a favorite gin child, but this isn't fun, never mind possible, without you all.