A reminder: These guys won. You could be forgiven for thinking otherwise. In the moment, you had to suspect this was going to end badly. In retrospect, well, this is still foreboding.
There's 2:36 left in Saturday's game, and to say the wheels are coming off is not accurate. The wheels are off and rolling down the Beltway. West Virginia, once up 35-19 with 11:27 to go, is now ahead by three points and stumbling off the field after a blooper turnover, a shocking error by either the most reliable player or the most reliable tandem on the team. It's probably both. The Mountaineers were four yards and one or two plays away from putting away BYU.
Then WVU calls a freeze play, which is designed to make the defense, aggressive in the protection of its end zone, show its hand. A receiver motions from left to right, the quarterback throws out a hand gesture in the shotgun to trigger the defense and BYU shows something. That's an if-then scenario. If the defense shows something, then quarterback Skyler Howard has a play he knows to call. So he saw the defender on his right dart toward the line and knew he had to execute the plan.
WVU does this all the time. You've seen it. You have. Near as we can tell, center Tyler Orlosky thought BYU jumped offsides and that a shrewd snap would get his team a free play.
Whoops.
Howard looks speechless. Orlosky is incensed. Dana Holgorsen, yeesh. When I was re-watching the game, I saw that look and audibly apologized to him. It's a violent momentum swing. Remember, the Mountaineers were up 16 points and floundered and then recovered with what seemed like a game-clinching interception. They were 144 inches away from getting on the bus with a win.
Now that happens and the defense has to go against a percolating offense. It's a quick change, WVU plays a Charmin quality zone and that surrenders the easiest 29-yard pass up the rail. Couldn't even use the shadow of the goal posts as an ally.
A false start follows, and it's first-and-15, but seconds later it's third-and-4, and that's followed by a 23-yard play, again to the right after quarterback Taysom Hill broke outside.
This is bad, gang. Howard and Orlosky are still carrying on on the sideline. Hill is on a roll. Momentum is wearing white. The ball is on WVU's 28-yard line, but a 45-yard field goal is anything but certain given that BYU's starting kicker was out and replaced by the original starter who lost his job. But who's thinking field goal when you've got 1:09 left?
And then Hill makes, frankly, a risky decision. It's the sort of chance you might take earlier in the quarter, when you're trailing and rallying and need to force the issue a little bit, or earlier in the game, when the outcome is not on the line.
WVU played zone at the start of the drive and only went to man-to-man on the aforementioned third-down play when Hill rolled right and found a receiver on the sideline. It's man-to-man again here, which is a bit of good fortune. Defensive coordinator Tony Gibson said he knew this play was coming. In fact, he tried to get his deep safety, Jeremy Tyler, to slide over to his right before the snap. That doesn't happen, at least not to the degree Gibson wanted, probably because the order arrived so late in the period before the snap. But since it is man-to-man, the defenders are running with receivers, and that not only means Nana Kyeremeh is in position to tip the pass but that Maurice Fleming has to be on the lookout for the ball and that he's in the vicinity to step off his receiver and catch the tip.
If it's zone, maybe Hill drops that pass in a bucket. Maybe defenders aren't around to tip or intercept the pass. (Aside: I do wonder if the outside receiver was supposed to be where he was. If he runs his route deeper, or if he doesn't go as deep, Fleming isn't in the area. Then again, it's hard to fault the receiver him for seeing the pass and going to the ball. Being near the ball is, like, the key to sports.)
And then it was over. All the worrying was assuaged. All the writing on the wall was erased. WVU is 3-0 for the second straight season but dodged a wrecking ball for the first time in a long time. How did we get here? Let's find out by taking a look at the Good and the Bad of WVU v. BYU.
Bad: The end of the first half
I'm not talking about the officiating. We've been over that. I know the rule is wonky. You would need to spend only a little time and effort convincing me BYU handled that drive so poorly that it didn't deserve a reprieve. What we haven't discussed? The Mountaineers were critically complicit.
Let's review: Rasul Douglas returns an interception for a touchdown, BYU returns the kickoff to midfield — and we'll come back to both of those. So the Cougars are at the 50 with 2:14 to go. WVU called two timeouts on this drive!
One I understand. BYU had second-and-4 and picked up a first down with a 6-yard pass. WVU was in its base defense. The clock re-started with 1:12 to go, and WVU waited until just before the snap to call a timeout. That came with 59 seconds left. Thirteen seconds. Useful. The Mountaineers returned to the field in their nickel package. That all makes sense: You use a timeout to sub, and you wait as long as you can to call that timeout.
Moments later, it's third-and-6. Hill scrambles right and gets hit short of the first down, but he fumbles forward, and the ball is recovered by a teammate for a first down. There are 35 seconds to go. BYU hurries to the line and is clearly ready to spike the ball. WVU calls a timeout. BYU saves a down.
The Mountaineers were in nickel. They came back in nickel. It's first-and-10. It should be second-and-10. BYU runs the ball and calls timeout. It's second-and-6. It should be third down. BYU gets called for holding. We replay second down. It should still be third down. Hill completes the pass on the sideline to Mitch Juergens, and that gains 13 yards. It's third down. It should be fourth down. Hill spikes the ball. It's fourth down. It should have been a turnover on downs.
It's not the reason BYU had a chance to force overtime with a field goal, but it was a major reason.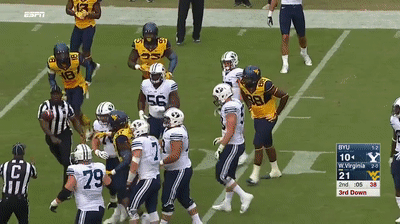 Good: Christian Brown
This was not a great game for Brown or the defensive line, but I enjoyed this play. Watch him in the middle. I have to believe he dives forward and tries to keep the ball from hitting the turf. He tried to prevent the spike! I guarantee someone pulls that off in a game at some point in the not-too-distant future.
Bad: Perception
Holgorsen got a lot of grief for the two offensive series after WVU took a 35-19 lead and BYU's responded with a touchdown — and a missed two-point conversion — to make the score 35-25. (Side Bad: BYU went for two after scoring on the first drive of the third quarter. It didn't work, so the score was 21-19, and not only did that decision seem bizarre, but it loomed large the rest of the way. How different is the final drive if BYU can win the game with a field goal?) The WVU offense went three-and-out twice, and the one complaint I saw was how conservative things became. I disagree. WVU ran its offense. It used four receivers or three receivers (with two running backs or with one back and Eli Wellman playing H-back) on five of the six snaps. The exception was a first-and-10 play to start the second possession. It was a read play out of the diamond formation, and Howard kept for a gain of 4. Holgorsen called four passes and two runs. The calls were fine. The results were not. But I will listen to arguments that Justin Crawford have should have gotten carries in at least one of the series. He was so good, especially late.
Good: Beginnings
Enough about conclusions. Let's discuss how the Mountaineers started the game. It was great. WVU believed it could hit the Cougars with tempo they hadn't seen this season, so the offense played fast before and after the snap. The Mountaineers hurried from one play to the next. When the ball was snapped and Howard looked to pass, he wasted no time. These were short throws that put that ball in someone's hands, and each one challenged BYU to chase and tackle. If it wasn't clear before the game, then it was once it began: WVU thought its offense was faster and more athletic than BYU's defense. So the start was smart. It tested the Cougars, and it got Howard into a really good groove. Remember, WVU had 13 and 14 points in the first half of its first two games. It had 21 Saturday, and though one was the Rasul Douglas pick six, I don't think there's any question that was the best the offense has looked in a first half this season.
There was clear intent, too.
Wait, he's praising this? Can't wait to hear the explanation. Look, there's nothing there. The safety up top drops deep to double Ka'Raun White. Daikiel Shorts, the inside receiver up top, gets behind a linebacker to explore the space that safety created, but the middle linebacker covers it. Howard has to bail, and I say that because this drive was going places, and I have to believe Howard recognizes things like that and understands the game. WVU is in #TeamGoForIt territory, and I have little doubt he ran and gobbled up what he could to set up a more reasonable fourth down. (Aside: No penalty for the hit, to Howard's chagrin. There were a few occasions when both quarterbacks ran, slid and were hit that I thought could have drawn a flag.)
You might be right. Look at that. White made a play to get a first down. Crawford followed with a purposeful run. McKoy wrecked a dude. Howard, who was feeling it, made a stellar throw to Gibson, who did work in the middle of the field Saturday as well as on the left sideline. Then the cheeky pass to Shorts that called back to the goal line pass to Wellman finished it. Those things are contagions. People start to think, "I can get open. I can beat this defensive back," and, "I can get outside. I can run over that little guy." In the end, 12 plays, six runners or receivers. For the day, 10 players caught a pass and three running backs and Howard ran the ball. That's as far as a very good offense can extend itself, and this wasn't a blowout. This was a three-point game, and WVU seemed to be doing it without breaking its stride. I don't mean to say it was easy, but it wasn't like the offense was forcing things and trying to get a player a catch or a carry. It was flow-of-the-game stuff. And it was effective. I think we know WVU has talent. I think this was a game when it was too much for the opponent. Whether this is something that occurs regularly and is the answer to a question weeks or months or years down the road, we'll have to wait and see.