Yes We Can Stop Annoying Commercials.
The credit card reform bill that flew through Congress and was signed into law recently by President Obama will not only put a stop to many unfair practices by credit card companies (albeit, only after they have a year to really stick it to consumers good), but it will achieve something that may well earn Obama a spot on Mount Rushmore. This new law will effectively kill FreeCreditReport.com, and stop those catchy, but totally misleading commercials. I'm talking about the spots with the hapless guy and his two buddies who sing little ditties that blame their lack of free credit reports for all of the hideous mistakes that they've made in their pointless slacker lives.
The most offensive thing is that those commercials are absolute lies. They are a huge con. Not only is the credit report they offer not "free," (you don't get it until you sign up for their credit reporting service at a cost of $180 a year) but they commit the sin of omission by not letting on that there actually is a site, created by law years ago, where you can indeed get a free credit report, AnnualCreditReport.com. The reform bill, signed into law by the President, calls for the Federal Trade Commission to issue new rules to mandate that free credit report advertisers inform consumers that the only place for a free credit report is AnnualCreditReport.com. Television and radio ads will also be required to include the statement: "This is not the free credit report provided for by Federal law."
Comic Book Of The Week
"The Life And Times Of Savior 28" by J.M. Dematteis and Mark Cavallaro doesn't start like most superhero comics. The story begins in 2003 when the lead character is assassinated, presumably at the behest of Vice President Dick Cheney. Savior 28 takes the story of a Captain America-styled government sponsored superhero and turns it inside out, examining it through a unique perspective–that of a survivor's guilt.
The basic story is told by Dennis McNulty, an old man looking back on the life of James Smith, who was transformed into Savior 28 by a mystical stone implanted in his chest. He's called "Savior 28" because the process failed with the previous 27 candidates, killing 26, and driving one of them insane–with super powers.
As the story unfolds (I've read the first two issues so far) it's clear that the burden of being Savior 28 weighed heavily on James Smith. He suffered breakdowns and battled alcoholism over the years. Since the mystical stone that gives him his powers also slows his aging process, he can only watch, powerless, as Samantha Shane, his one true love, slips into Alzheimer's Disease.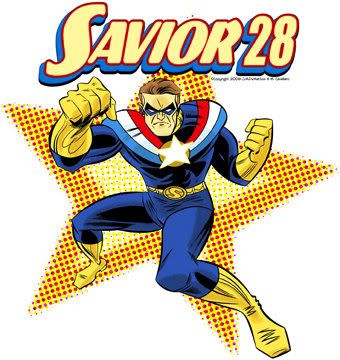 West Virginia Words and Music wraps up Tonight and Saturday at The Clay Center. CYAC's " Cupid Rising" finishes its run this weekend at The WVSU Capitol Center Theater. You can read about them in last week's PopCulteer.
If you've been watching Radio Free Charleston this month, then you should know that Hitchcock Circus is playing at LiveMix Studio Saturday night, starting at 8 PM. Five bucks gets you in the door and a free copy of their CD, which is pretty gosh-damned good.
Leon Redbone is in Hamlin Sunday at Lincoln County High School's Performing Arts Center. Tickets are $30. I just found out and have no further details, so go check it out here.
For the most-detailed weekend wrap-up, check The Gatecrasher blog here at the Gazz.com and visit WV Rockscene for even more on the local music scene.
That's All Folks
Next week in PopCult we have our usual "Sunday Evening Videos" and "Monday Morning Art." Radio Free Charleston is taking the week off, gearing up for the "Drive To 75," our third-anniversay show on July 1. With a week off to screw around with stuff, you never know what'll turn up here in PopCult.